The Shawnee Choral Society was established in July of 2000 by a group of singers who felt that the Topeka-Shawnee County metropolitan community could support a quality community chorus. Members come from diverse backgrounds and professions. The mission of SCS is to "provide a venue for volunteer singers to rehearse and perform a variety of quality music and to perform in a concert setting for the citizens of our community." Each member is not only a volunteer but pays a modest membership fee to help support the cost of music, staff, and any special instrumental needs. The SCS on occasion performs at local events when requested, and several members have performed in Carnegie Hall as part of an ensemble with other talented choirs from across the United States. SCS is grateful for the community's support and will continue to strive for excellence. Director Nicolas Carr provides dedication, good humor and positive encouragement throughout the weekly rehearsals. The SCS members are privileged to rehearse every week at Countryside United Methodist Church and to perform twice a year at White Concert Hall on the Washburn University Campus. The Shawnee Choral Society is composed of experienced singers who thoroughly enjoy singing. With weekly practices in season, membership is a rewarding commitment.
Director Nicolas Carr
Nicolas Carr has conducted Shawnee Choral Society since 2009. During this time, the group has grown and received consistent praise from the Topeka community. Nicolas is Director of Choral Studies at Shawnee Heights High School, Tecumseh, Kansas. He holds a Master of Music Education, Choral Conducting emphasis from Kansas State University and a Bachelor of Music Education from Washburn University. Nicolas has 20 years' experience directing a variety of musical groups including strings, band, handbells, choral groups (secular and religious) and barbershop groups. He is gifted at making music theory, conducting, music history, and instrumental/vocal techniques accessible to all ages. Nicolas' primary instruments are trumpet and voice (baritone). He enjoys singing, playing trumpet and ringing handbells locally. Nicolas, his wife, and their two sons live in Topeka, Kansas.
Collaborative Pianist Ben Holcomb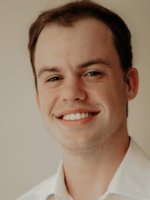 Ben Holcomb joined Shawnee Choral Society as its Collaborative Pianist in the Fall of 2023. Ben is the director of choirs at Washburn Rural High School. He earned his Master's in Choral Conducting from Georgia State University and his Bachelor's of Music in Music Theory from Belmont University. During his Master's degree, Ben held musical director positions at Eastminster Presbyterian Church and in the Atlanta Homeward Choir. In 2021, he worked with colleagues to form the Voces Amicis choral ensemble. Ben has also worked heavily with and arranged for a variety of contemporary a cappella ensembles. In 2019 his A Cappella Group, the Belmont Pitchmen, were International Championship of Collegiate A Cappella finalists. Since then, he has remained active as an arranger for both collegiate and high school a cappella groups.
Board of Directors
2023-2024 Officers
President:   Laurel Vogt
President-Elect:   Catherine Chmidling
Secretary:   Jona Tatrn
Treasurer:   Stephanie Reynolds
Standing Committees
Membership:   Marge Whelpley (Music Librarian), Stephanie Reynolds (Treasurer)
Music:   Nicolas Carr (Choir Director), Ben Holcomb (Collaborative Pianist), Marge Whelpley (Music Librarian)
Concerts:   Emilie Lunsford (Production Manager), David Schaefer (Stage Manager), Leslie Carr (Programs/Flyers)
Finance:   Stephanie Reynolds (Treasurer), Brenda Zimmerman (Fundraising/Grants)
Marketing:   Jan Lunsford (Chair), Debbie Stanton (Social Media/Website)
Section Leads
Soprano:   Marilyn Mott
Alto:   Marjorie O'Konski
Tenor:   Duane Hines
Bass:   Bill Stelzner
Other SCS Roles
Liaison to Choral Director:   Emilie Lunsford
Communications:   Nadine Shaw
Immediate Past President:   Debbie Stanton
Singers
2023-2024 Shawnee Choral Society Singers
Alexander, Tami
Allen, Blake
Allen, Randy
Apter, Jane
Bahm, Dylan
Bailey, Audrey
Barnett, Mary Laura
Barnwell, Cindy
Beckman, Wyatt
Bengtson, Margaret
Boutz, Bryan
Boutz, Melissa
Bowen, Doug
Bradford, Kay
Brownlee, Annette
Buening, Vicki
Buscher, Amy
Campbell, Ann
Carlson, Sharon
Carr, Leslie
Chmidling, Chris
Clair, Alicia
Cook, Katherine
Copp, Chuck
Copp, Paula
Cornelinsen, Amanda
Corwin, Janet Diehl
Cross, Michele
Dahl, Carolee
Daniel, Barbara
Davidson, Mark
Davidson, Ruth
Davis, Jay
DeBuhr, Melody
Deeter, Barbara
Dittmer, Tom
Dodge, Donna
Edwards, Bill
Ellebracht, Debbie
Ellerbrook, Dan
Foster, Virginia Kay
Fowler, Eddie
Free, Sandy
Graber, Sharlan
Greathouse, Barbara
Haenni, Elise
Hahn, Lisa
Harrel, James
Harter, Frank
Harvey, Chrystale
Hedberg, Doris
Hiebert, Connie
Hines, Duane
Holloway, Mary
Holm, Susan
Holt, Becky
Holt, Christy
Holt, J D
Howard, Toni
Jones, Darien
Jones, Janie
Lunsford, Emilie
Lunsford, Jan
Maes, Chelsey
Malsbury, Gary
Martin, Andrew
Massey, Elizabeth
May, Ruth
McKaig, Pat
Milburn, Dan
Moore, Diane
Mott, Marilyn
Murray, Alisa
Naeger, Hannah
Naeger, Will
Newman, Don
O'Konski, Jim
O'Konski, Marjorie
Packard, Betsy
Paillet, Jessica
Pantos, Marlene
Petterson, Pat
Pohlenz, Melanie
Racker, Adele
Racker, Walt
Rector, Dave
Rector, Pam
Reynolds, Matthew
Reynolds, Stephanie
Reynolds, Susan
Rice, Allison
Ridley, Mona
Roth, John
Schaeffer, David
Schmitt, Lisa
Selbee, Penny
Sewell, Lynette
Shaw, Nadine
Shepherd, Elva
Slawson, Kathy
Smith, Laura
Smith, Monte
Stambaugh, James
Stambaugh, Virginia
Stanton, Debbie
Stelzner, Bill
Stipcek, Brad
Swartz, Lloyd
Tatrn, Jona
Taylor, Kim
Thomas, Delano D.
Tomlinson, Bruce
Towle, Chris
Towle, Katie
VanBuren, Marjorie
Vaughn, April
Vogt, Laurel
Wagner, Faye
Wagner, Wayne
Whelpley, Marge
White, Jaclyn
Widener, Angie
Williams, Scott
Youngclas, Ted
Zima, Janet
Zimmerman, Brenda