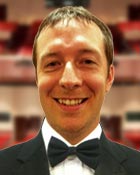 Nicolas Carr has conducted Shawnee Choral Society since 2009.  During this time, the group has grown and received consistent praise from the Topeka community.  Nicolas also teaches primary and secondary band and orchestra in the Shawnee Heights school district.  He received a Bachelor of Music Education degree from Washburn University and a Master of Music Education, Choral Conducting degree from Kansas State University.  In his free time, Nicolas enjoys playing trumpet and hand bells at Countryside United Methodist Church. Nicolas has a wife and two sons.
Tim Smale serves as Accompanist for the Shawnee Choral Society. Tim is a graduate of Washburn University and is entering his second year as a Kansas music educator in USD 336 where he is the choral director for Holton High School and Middle School. His primary keyboard instructors include Dr. Shiao-Li Ding, Mormon Tabernacle Organist Dr. Brian Mathias, and Dr. Cynthia Neufeld-Smith. At Washburn, he was the grand prize winner of the concerto aria competition conducting division in 2016, was selected to play on the department honor's concert in 2014 and 2016, and was in the featured piano duo for the 2016
 Holiday Vesper's Concert televised by KTWU. He gained ample experience in collaborative piano through accompanying instrumental and vocal works for students and faculty and playing in the WU symphony, concert band, and chamber ensembles throughout his undergrad. He has expanded his collaborative experience at the Sunflower Music Festival in 2018 and 2019, studying chamber music with David Allen Wehr, and at Atlantic Music Festival in 2019 studying with Arlene Shrut. In the Northeast Kansas region, he frequently collaborates with groups such as the Topeka Symphony Orchestra, Kinnor Philharmonic, and Kansas City Civic Orchestra. He also performs in musical theatre where he has played and directed the pit orchestra at Topeka Civic Theatre and Ad Astra Theatre. He also has held different church jobs the last five years in Topeka KS, working as organist and/or directing choir at Grace Episcopal Cathedral, Westminster Presbyterian Church, and First Christian Church. Tim plans to pursue a graduate collaborative piano degree in the future.