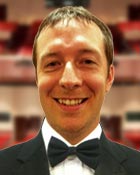 Nicolas Carr has conducted Shawnee Choral Society since 2009.  During this time, the group has grown and received consistent praise from the Topeka community.  Nicolas also teaches primary and secondary band and orchestra in the Shawnee Heights school district.  He received a Bachelor of Music Education degree from Washburn University and a Master of Music Education, Choral Conducting degree from Kansas State University.  In his free time, Nicolas enjoys playing trumpet and handbells at Countryside United Methodist Church. Nicolas has a wife and two sons, ages 5 and 4.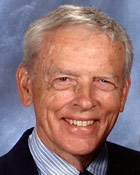 Paul Moore serves as Accompanist for the Shawnee Choral Society.  Paul received his Bachelor of Music in Piano from the University of Oklahoma. Paul also received a Master of Music in Piano from the University of Michigan. Additional training included studies at The University of Michigan and three summers of intense piano study with Frank Mannheimer, protégé and student of Tobias Matthay.
As an educator Paul taught for three summers at the National Music Camp in Interlochen, Michigan. He began his career at Emporia State University in 1960. Paul developed the group piano program at ESU and a course for beginners in piano delivered through the ESU television station.
As a solo performer, Paul has appeared in many community concert programs in several northern states. He was also a Guest Artist in the Beethoven Festival at the University of Nebraska.
As a collaborative performer, Paul was under professional management for three seasons as accompanist for Robert Anderson, Bass-Baritone. He also accompanied the ESU choirs in performances at home and abroad. He has also performed for many faculty and guest artists during his tenure at ESU. He has the distinction of being the Pianist/Accompanist for the first ESU Dept. of Music Annual Music Benefit Concert.